JIRITSU
Jiritsu
is a Japanese word which can mean self-alignment自律 or self-standing自立.
What is to be aligned? Do you think humans are in the circle of nature? Are humans aligned with the law of the Universe?
What is to stand? Do you stand on the Earth? When you stand, have you ever felt being connected to the Earth?
It is YOU that make yourself aligned and connected from your heart center.
Interestingly,
Jiritsu
is translated as "independence" in English.
What are you going to be independent from?
You are the one who knows the answer!
Time
Do you feel time is flowing faster these days?
Do you feel things happen exactly on right time?
The secret of time is unfolding.
The key is to be in the moment.
Who decides when is the time to end and start?
Answers are all within you!
Beauty

Take a look at flowers blooming on trees.
It's expressing the exquisiteness of nature.
Yet we all know that it will not last forever.
But we all know that we will see it again when the time comes.
It is in the cycle of life in the circle of nature.
Life is beautiful because we can appreciate its transiency.
We never know what is the beauty if life remains in the same state.
Can we say that pristine beauty comes with the appreciation of our transient existence?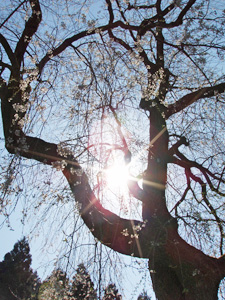 Window of Opportunity
In this wide world, different fields exist side by side.
Differences provide huge walls with prejudices and misunderstanding.
Most of the time it is our perceptions that make those walls.
There is certain point of time and space where differences can meet together.
That's when the window of opportunity is open.
it is that tiny little opportunity where time and space is exactly met.
Seeing it through from that window, we can appreciate the differences,
and move forward.
But we all know, it is easy to say "welcome the differences",
but really challenging to practice.
That is maybe why,
the window is only open when we are ready.
educate
The word "educate" is derived from Latin word "educatus" literally meaning "leading out potential".
This can imply that one is already possessing potential, and to educate is to discover that potential and make it meaningful.
Probably many teachers and experts know how wonderful and amazing children are.
But the question is "how" to lead out the potential even we understand children are already geniuses and miracles.
One of the key elements for education, I believe, is trust.
It is not only to trust children of their potentials, but more importantly, it is the trust of teachers themselves in their lives and doings.
If you are not fully sure and get some mixed feelings in whatever things you are doing, that's not it.
Trust your heart. When you feel good about what you're doing, your own education is unfolding.
If you can trust, people will join you in ever expanding journey of your education.
Yes! Planetary children are waiting for you!
SHINH
The beauty of Japanese language is that one word can have various meanings
sharing the same sound.
Shinh is a japanese word that can be written in many
kanji
such as
芯 (core)、真 (truth)、信 (belief)、森 (forest)、心 (heart)、神 (god) and so on.
A sound represents frequency.
A word carries the spirit of its origin.
Is it possible that all the different meanings of "shinh" share the same origin?
青空が澄み渡る昼間と満月がきれいに輝く夜空のコントラストがすてきな大寒になりそうですね。
本日より不定期になりますが、MALCラーニングセンターより
英語で短いコラムを発振したいと思います。
日本語に訳しながら理解するより英語そのままのエッセンスを楽しんでいただければ幸いです。
******************
Everything Happens for a Reason
Life is filled with endless encounter of surprises whether it brings you happiness or sadness. To judge an event as an opportunity or a misfortune all depends on our way of thinking.
It is alright to take time to understand what a seemingly misfortune event brings any meaning to your life.
Time heals.
Finding codes or keys undiscovered in all your surrounding is like a life-time play.
Joy maybe a sense of feeling that fills you when you have learned something valuable or meaningful.
Isn't it so intriguing to think that we are here on Earth to learn and play?
000プラネットの風を   あなたのもとへ

by 000planet
S
M
T
W
T
F
S
1
2
3
4
5
6
7
8
9
10
11
12
13
14
15
16
17
18
19
20
21
22
23
24
25
26
27
28
カテゴリ
全体
プラネットの朝市
真を生きる人たち
LAILAオープンキッチン
ハートのゆめみのり
風のとおり道
ロシアの学校
MALCラーニングセンター
プラネットのまわり
OHSHIMA AI LAND
River Root - Kawane
KURIMOTO
ごあいさつ
お知らせ
未分類
以前の記事
2015年 11月
2015年 08月
2014年 08月
2014年 07月
2014年 06月
2013年 12月
2013年 10月
2013年 09月
2013年 08月
2013年 07月
2012年 08月
2012年 07月
2012年 06月
2012年 04月
2012年 03月
2012年 02月
2012年 01月
2011年 12月
2011年 11月
2011年 10月
2011年 09月
2011年 08月
2011年 07月
2011年 06月
2011年 05月
2011年 04月
2011年 03月
2011年 02月
2011年 01月
2010年 12月
2010年 11月
2010年 10月
2010年 09月
2010年 08月
最新の記事
検索
その他のジャンル
ファン
記事ランキング
ブログジャンル
画像一覧